Boys washing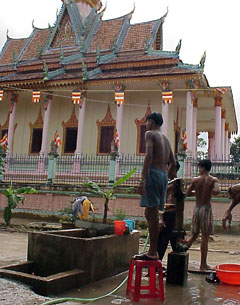 Outside a Khmer-style Buddhist pagoda (Theravada) in Ngoc Bien commune, Tra Vinh province, Mekong delta.

The dominant group in neighboring Kampuchea (Cambodia), the Khmer are a sizable minority in the Mekong delta. They were in the majority here until the Vietnamese (Kinh) began moving south in the 19th century.

Upriver in Kampuchea the delta is still known as "Lower Kampuchea."