Generation XII: Charles Revives the Family Fortunes
After two generations that left very little mark on the world, Charles Edward Colburn (1852-1916) seems to have arrived bursting with energy. He became a successful hop farmer and cattle-breeder.
Three generations of Colburn had farmed in the valley of the Unadilla River. Charles moved his family over the hills east to the valley of the Susquehanna, which was both larger and commercially more central, at least after 1869 when a railroad began running along the river. Charles maintained large houses both in the railroad depot town Milford and at his Hillside Stock Farm, within Milford township above the southern hamlet of Portlandville.
A year after his father Elijah died, the 1880 census shows Charles living with his mother Susan, youngest brother Starr, wife Charlotte ("Lottie") and two young children (Jay and Lena).

A photograph taken a few years later, annotated in Lena's adult hand, shows the family in front of a farmhouse. This may have been another rented property.
The younger woman seated left, next to the children, is probably Charlotte. The older woman at center is likely Elijah's widow Susan (if so, this is the only known photograph of her.) An annotation in the adult Lena's hand identifying the woman seated center as Charlotte is probably in error. She looks to be more of a grandmotherly age.
This undated picture shows young men their twenties. Charles was 23 when he married, so this may be a wedding picture.
Early entries are in Charles' hand. After 1912 entries were made by daughter Lena.


Charles E Colburn + Charlotte Chase 1873
Jay L Colburn + Alta M. Seegar Nov 16, 1897
Allen W Barr + Blanche E Colburn Dec 18, 1907
LeGrand C. Colburn + Mildred H. Smith Oct 18, 1911
Harley J. Beams + Ida Mae Colburn, Mar 6, 1912
Edwin H. Rider + Lena B. Colburn April 17, 1912
Allison Cookingham + Mildred L Colburn Dec 18, 1917
Lynn C Barr + Anna Mae McColloch Aug 1930
Clay L Colburn + Hilda Cassler June 30, 1938
Charles Colburn Rider and Eleanor Amy McMaster March 26, 1943
Richard Henry Bates and Constance Jean Colburn Dec. 27, 1947
Edward [actually Edwin] L. Gasperini and Charlotte B. Colburn Oct. 7, 1950
Charles Edwin Hart III and Janice Ruth Colburn July 22, 1950
Robert Lee Colburn + Kathrine Ann Friery, June 23, 1951
Carolyn McCulloch Barr + Frank John Leesonne? Feb 1, 1958
Charles E Colburn Born Jan 1, 1852 (Pittsfield, NY)
Charlotte Colburn Born Jan 23, 1855 (Springfield, NY)
Gracie Colburn Born April 1, 1874 (Morris, NY)
Jay Lee Colburn Born Nov 15, 1876 (Morris)
Lena Colburn born Sept 23, 1878 (Morris)
Blanche Colburn Born Mary 16, 1884 (Milford)
Legrand Colburn Born Ma 19, 1886 (Milford)
Ida Mae Colburn Born Feb 22, 1888 (Milford)
Career Ambition: Cattle Breeder
By the mid-1890s, Charles was engaged in cattle breeding, a type of farming that carries a certain prestige. According to a boosterish article by an anonymous "correspondent" in an 1898 edition of Breeder's Gazette about his hometown Milford, he was one of several farmers there specializing in particular breeds:
An Otsego County Stock Center

The town of Milford, Otsego Co., N.Y., is fast becoming famous for being the home of the largest number of herds of pure-bred cattle of any town in the United States...

A visit to the Hillside Stock and Hop Farm will introduce the first and only herd of registered Canadian cattle in the United States. The proprietor, Mr. C.E. Colburn, imported this herd from Canada, some of the individuals composing it originally coming from Normandy, France. They are the best to be obtained. In addition to stock-raising Mr. Colburn is one of the largest hop-growers of the town...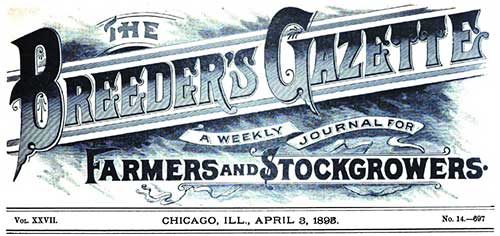 Other Milford stock farms specialized in such breeds as Ayreshires, Holstein-Friesians, Jerseys, Brown Swiss, and Dutch-Belted.
In the Northern part of the town we find at the Brookside Stock Farm the fine herd of Ayrshires owned by E.H. and C.S. Barney... Mr. C.S. Barney is Vice-President of the New York State Agricultural Society.
Five years later, in 1903, Brookside Stock Farm was owned by Charles' eldest son, Jay. The farm was still breeding Ayreshires.
The cover of another magazine for farmers, American Agriculturalist, featured one of Charles' bulls:
French Canadian Bull Owned by C. E. Coburn (sic) of New York
Farmers in northern climates are interested in hardy breeds of dairy cattle. The growth in dairying calls for a cow adapted to the somewhat rigorous conditions of countries as distant as northwest Canada. Why not look up the merits of the French Canadian cattle? They are small, rugged, inured to the long, cold winters of Quebec and northern New York, are persistent milkers, producing 5000 to 6000 pounds a year, give excellent returns for the feed consumed, are the very best of foragers, their chief weak point being lack of size. The illustration is of a French Canadian bull considered a good specimen of the breed.
For several years around the turn of the 20th century, Charles and his herd swept the French Canadian category of the annual Cattle Show and Fair of the New York State Agricultural Society.
In the 1899 show for example, held at Syracuse September 4-9, he won prizes for best Exhibitor's Herd, best Breeder's Young Herd, and two prizes each for best Bull and best Cow. The six prizes of $15 and $20 netted him a total of $100, which in 1899 had the purchasing power of about $2900 in 2014.
Many of the charming names Charles gave his cattle, preserved in the list of prizes and once again available through the Internet, reflected their Quebecois origins. The bull "Denis Jewel" was named for Arsene Denis, a Quebecois breeder from whom Charles bought cattle, and the cow "La Countesse St. Norbert" for St. Norbert, the village near Trois Rivieres P.Q. where Denis lived.
His French Canadians were also discussed in a 1900 book about breeds of American cattle, sheep and pigs.
Charles won prizes further afield than Syracuse, as well. In 1895 he won two bronze medals at the Cotton States and International Exposition in Atlanta, Georgia. According to his granddaughter Charlotte Colburn Gasperini, he took along his nine-year-old son Legrand, to whom he gave the medals.
The Exposition Awards Committee examined about 6000 exhibits, and awarded 634 gold medals, 444 silver, and 495 bronze. A site for collectors of exposition medals describes the medal as follows:
6mm thick, 57 mm diameter. On obverse 'Atlanta Georgia USA', Columbia in long chiton, holding a cornucopia filled with fruit in right arm, standing to left: in front of her, a winged wheel, and a small winged genius bearing a tablet inscribed INDUSTRY; in background to the left is the Fine Arts Building. Singed 'PH MARTINY SC NY', this medal is notable as the sole signed work of metallic art by famous sculpture artist Philip Martiny 1858-1927 whose baby-like winged cherub has become the emblem of generations. "With its exuberant allegorical design and lovely modeling, Martin's Cotton States Exposition medal exemplifies the high Beaux-Arts style of decorative sculpture."

The reverse has a palm leaf, the American eagle, a cotton plant and the legend 'COTTON STATES AND INTERNATIONAL EXPOSITION AWARDED TO [C.E. Colburn] ATLANTA GEORGIA USA MDCCCXCV'. The medals were executed upon a design prepared under the supervision of Mr. Horace Bradley, Chief of the Department of Fine Arts, and were delivered in the Summer of 1896, while the World's Columbian medals, awarded two years earlier, were being delivered.

Ref
Death of Charlotte; Remarriage to Kathryn
The 1900 census shows Charles at 48, living with Charlotte, 44. She is listed as the mother of six, five of whom survive and live with them. All can read and write. Jay, 23, listed as "farm laborer," is apparently not yet owner of the farm he will have in 1903. There is a mortgage on Charles' property.

From The Otsego Farmer, January 15 1909:
Charlotte L. Chase, wife of Charles E. Colburn, died at her home in Milford early Saturday morning, aged fifty-three years, Death, which was very sudden, resulted from heart disease. She was a woman of many lovely and estimable qualities that gave her a high place in the regard of all who knew her.

Mrs. Colburn is survived by her husband and five Children, two sons and three daughters; Jay L., of Milford, LeGrand, at home, Mrs. A.W. Barr, Berkshire, and Misses Lena and May, also at home; one sister, mrs. J.H. Bennett, of Milford and two brothers, the Rev. F.J. Chase, of Buffalo and Will N. Chase, of Portlandville. The funeral was held at the residence in Milford village, Tuesday, at 2 p.m., the Rev. E.R.D. Briggs officiating. Interment in Milford cemetery.
FUNERAL OF MRS.CHARLES E.COLBURN
Milford, Jan. 12 The funeral of Mrs. Charles E.Coburn was held from her late home at 2 o'clock today and,in spite of the heavy snowstorm, the spacious home was filled to overflowing with sorrowing relatives and friends. Rev. E.R.D.Briggs, the officiating clergyman, read selections from Psalm xe. and from I.Corinthians, xvi, and upon them based a disclosure that was full of comfort and hope. A quartette composed of Mrs. Kent Barney, Mrs. W.R.Seeber, Claude Hall and Fred Teal, with Miss Grace Luther at the piano, sung favorite selections. The floral tributes were many and beautiful, coming from outside friends, the church, Sunday school and fraternal societies with which the family are affiliated. Letters were also recieved from distant friends, expressing their tenderest love and sympathy for the sorrowing family.
The 1910 census shows Charles at 58, newly married to his second wife Kathryn, 53. It is a second marriage for both. Charles owns the house on South Main Street, Milford Village, and a "general farm."
A Farm Ledger
Charles' ledger for 1913 has survived. By that year he seems to have shifted the focus of his farm from stock breeding to dairying. Improvements in transportation, refrigeration and pasteurization, along with population growth in New York City, made dairy farming a more profitable business in central New York. Receipts divide almost evenly between the sale of hops and of milk. No expenses or receipts appear to be associated with cattle breeding or trading.
Charles seems to have met with limited success in promoting his chosen breed (aside from sweeping cattle show prizes in a category for which there may have been no other entrants.) About the same time he began promoting it further south, the "Canadienne" breed began to decline in its country of origin. From Wikipedia:
Canadienne cattle...originated in the 16th century, when French settlers brought cattle over for foundation stock to settle Canada. Canadiennes were the most common breed of domestic cattle in Canada until the late 19th century, when other breeds began to displace them... The Canadienne, though still found on farms and ranches across the nation, is now comparatively rare except in certain portions of northern Quebec Province.
Entries in the ledger display the tight interconnections of small town life. Charles lists purchases of:
-groceries from his son-in-law Harley Beames
-rake teeth and a pump from James E. Smith, father of his new daughter-in-law Mildred Smith Colburn
-hardware from Millard Hawver, also a relative of Mildred's.

A sense of his daily life can be traced in the full 1913 ledger. Charles buys cigars, goes to church suppers and county fairs, throws holiday parties, pays farm workers, reads newspapers, pays taxes, and takes trips to nearby towns.
Death of Charles
From The Otsego Farmer, January 21, 1916:
Charles E. Colburn died at his home in Milford, Saturday evening last, after several weeks' illness with vavular heart disease. He was a man held in the highest respect by everyone and his death has cast a gloom over the entire village.
Mr. Colburn was born in the town of Pittsfield in 1851 and in in 1872 was married to Miss Charlotte Chase of Laurens. A few years later they came to this town and purchased a farm about three miles from the village where they resided until about fourteen years ago when they purchased a residence in this village. Seven years ago Mrs. Colburn died and later Mr. Colburn was married to Mrs. Kathryn Braley of Morris, who survives him.
Mr. Colburn has been a member of the village board of trustees for several years and one of its most earnest workers. He was also a member of the Milford Independent Order of Odd Fellows.
Besides the wife mentioned, he is survived by three daughtes and two sons, Mrs. Allen Barr, Berkshire; Mrs. E.H. Rider, Mrs. H.J. Beams, Legrand Colburn of Milford and Jay L. Colburn of Oneonta.
The funeral was held at his late residence, Tuesday afternoon at 2 o'clock, the Rev. E.R.D. Briggs of the methodist Episcopal church, Portlandville, officiating. Interment in the family plot in the Milford cemetery.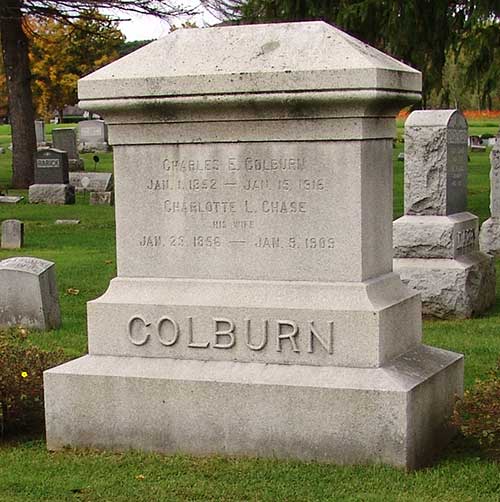 Charles E Colburn Died June 15, 1926
Charlotte Colburn Died Jan 9, 1909
Gracie Colburn Died May 1875
Jay Lee Colburn Died July 30, 1918
Lena Colburn Rider Died June 10, 1962
Blanche Colburn Barr Died June 28, 1942
[Lena Colburn left a line blank line for the brother who survived her, by one year:
Legrand Colburn Died Jan 11, 1963]
Harley J Beames Died Dec 27, 1945
Percy Lee Colburn Died Aug 16, 1936
Mildred Colburn Cookingham Died Dec 16, 1918
James Edwin Colburn Died Oct 14, 1938
Allen W. Barr Died June 14, 1944
Edwin H Rider Died March 16, 1961
Charles Colburn Rider Died June 21, 1993
The family of Charles' son Jay was decimated by the great influenza pandemic of 1918. A year after their marriage, both Jay's only daughter Mildred and her new husband died of the disease. According to the Otsego Farmer and Republican of Dec. 20, 1918, her mother and brother Percy became ill around the same time. Both later recovered. Jay, who died a few months before at age 39, may also have been a victim.