Generation VI: Lieutenant Joseph Colburn, 1662-1718
Joseph Colburn was the youngest of Nathaniel and Priscilla's eleven children. According to an old town history he was reputed the best hunter in Dedham in the late 1600's. He "filled not only his purse with coin, but his chest with convenient corn and peas," primarily from the bounty paid for killing wolves and hawks. Ref On May 21, 1690
A bill is Giuen to Joseph Colborn to Receiue of Daniel Pond Constable ten Shilings in Corn pay out of ye Towne Rate now in his hand for killing A Woolfe.

Ref
Joseph followed his father's example and served the town as surveyor, fixing the lines between Dedham and Medfield in 1698 and between Dedham and Dorchester in 1700, and laying out numerous "High ways" and "Cart ways." He also served on a committee "in repayering the meeting house," as Constable, and as Tithingman. A tithingman was an officer of Puritan towns responsible for making sure that their neighbors maintained good "family order" and "family governance." If they deemed it necessary, tithingmen were empowered to remove children from "disorderly" homes and place them in others.
Nathaniel Colburn had owned land in the Pond Plain area of western Dedham since 1663. Sometime in the 1680's his sons Joseph and Samuel began farming this property. When they actually moved there is uncertain: until at least 1682, Dedham citizens were forbidden to build residences more than two miles from the meeting house. He likely built his house there by 1685, so that he had a place to take the bride he married June 30 of that year, in Braintree. She was Mary Holbrook, born 1663 in St. Johns, Glastonbury, Somersetshire, England.

In 1690 both Joseph and Samuel paid taxes independently of their father, at a rate suggesting they each owned a fair amount of property. Ref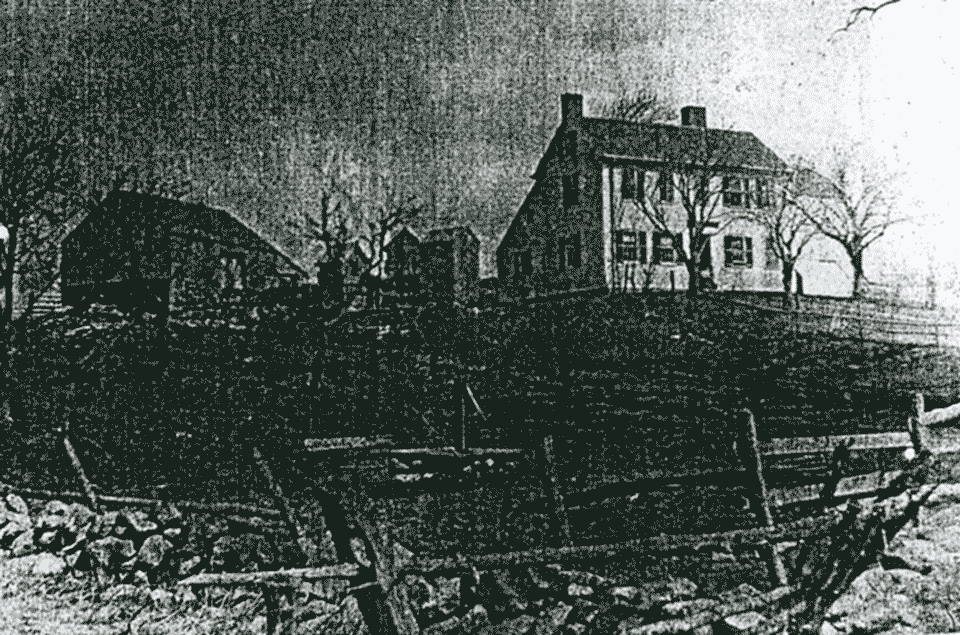 Joseph's most lasting creation still stands in the town of Westwood. In the Dedham records for May 14, 1700:
Lt. Joseph Colburn is agreed to provide timber and to make and set up a good sufficient pound for the use of the Town and is to Receive for his labor and Charge therein forty shillings out of the Town rate.
Towns built pounds to keep stray animals away from crops. Originally built of wood, Dedham's was remade later with stone walls.
The pound appears on the Town Seal of Westwood, designed by a Colburn descendant, Lucius Damrell. The seal also features the Avery Oak, over 600 years old when it blew down in a hurricane in 1938. The last of the many towns carved out of the original Dedham grant, the district known as West Dedham became Westwood in 1897.
Edward Cox quotes from an unspecified document that gives some hints about how Joseph Colburn earned his military rank:
Paid Lt. Joseph Colburn & Comp. that served her Majestie from the 20th of August to the 20th of September, 1706 36 No., 10 s., 10 d. Paid John Darbyshire that served as Pilot under Lt. Joseph Colburn from September the 4th to the 17th, 1706, 14 s.

Ref
That a pilot served under him suggests service on the water, perhaps the river Charles. One month is a short period for military service, so this is likely a record of his company's pay in the Massachusetts Militia for that month only. He was 45 at the time, and had already been in the service of Queen Anne for some time. Town records begin referring to him as Sergeant in 1700, and Lieutenant in 1703.
When Joseph Sr. died April 20, 1718 he left in his will "my sword," among other items. Mary survived him by thirty-four years, dying January 30, 1752 in Dedham. Unusual for the times, they had only one child, Joseph Jr.
Generation VII: Captain Joseph Colburn Jr. 1687-1750
Not much information survives about the second Joseph Colburn, the only child of Joseph Sr. and Mary. It is not even clear how and where he earned the title Captain, although it was probably in the Massachusetts Militia. He was born September 17, 1687, and married Mehitable Whiting of Dedham in December, 1715. Born May 20, 1696, she was the granddaughter of Dedham's first miller.
An image of the Joseph Colburn farmhouse as it looked in 1890 was published in the January 1890 edition of the Dedham Historical Register. Riding a wave of interest in early American history, this publication appeared monthly for two decades around the turn of the twentieth century. The heliotype accompanied an 1891 story entitled The Colburn Family of West Dedham.

The house belonged in turn to Lieutenant Joseph, his son Captain Joseph Jr., his son Isaac, and finally his son Isaac Jr. (the titular patriarch of The Descendants of Isaac Colburn, Jr. of West Dedham, Massachusetts, cited several times in this history.)
Captain Joseph and Mehitable had two sons they named Isaac; one died in infancy. (After losing a child, Puritans frequently reused the same name when another baby came along. One couple, after losing four children in an epidemic, managed to produce four more, and gave them all the same names.) Ref
Son Ebenezer, whose descendants we will follow, was a younger brother of the first Isaac.